Winter 4x4 Jamboree - 2024
Wednesday, January 17 - Saturday, January 20, 2024
The Event Venue is the
Washington County Fairgrounds in Hurricane, UT
. The Fairgrounds are located about two hours north of Las Vegas, NV, and about 4.5 hours south of Salt Lake City, UT, just off Interstate 15 and a few minutes from St. George, UT.
All trails are located within a one-hour drive from the Fairgrounds. The majority of trails, however, are within the Sand Mountain Special Recreation Management Area located just to the south of Sand Hollow State Park and only about five miles from the Fairgrounds. All trails are day trips and will be returning to the Fairgrounds each afternoon for the vendor show (on Friday and Saturday) and other activities. A number of events are in the works and will be added to the schedule as we confirm them. In past years these activities have included live music, Radio Controlled car races, a bonfire, swimming in a heated pool, miniature golf and more. Please review the schedule of events later in the year for more details on these exciting additions to the Jamboree.
The Jamboree features world-class rock crawling or more casual trails combined with gorgeous views of Zion National Park, Pine Valley Mountain, Sand Hollow Resovoir and more! There is plenty to do and see when you are not on a trail in and around our Southern Utah home.
The Winter 4x4 Jamboree is organized and run by some very dedicated volunteers from the non-profit 501 (c)(3)
Desert Roads and Trails Society (Desert RATS)
with significant assistance from the Utah Public Lands Alliance (UPLA), the St. George Jeepers and others. Last year, thanks to all of our attendees (that would be you!), we were able to donate nearly $78,000 to UPLA, Utah 4 Wheel Drive Association, Washington County Search and Rescue and Share Trails/Blue Ribbon Coalition. In addition, your participation helped fund the paving of a road up to a staging area at the Water Tanks on Sand Mountain, the creation of a fenced parking area and new restroom facilities. Our partner organizations work tirelessly for you to keep our trails open and available to our sport. Washington County Search and Rescue will have a continuing presence during the Jamboree. Your safety is paramount.
The Winter 4x4 Jamboree Committee has tried to take every possible precaution to assist you in having a safe and enjoyable adventure while you are here. Due to the nature of this particular sport, it must be understood by every participant that there are inherent dangers during off-road recreation. The Winter 4x4 Jamboree, its sponsors, its supporters and the public land management agencies involved cannot be responsible or liable for any personal or property damage that occurs from any accidents or mishaps during this event.
By registering for the Winter 4x4 Jamboree, each participant takes responsibility for their own safety and well-being and that of others in his or her care. Participants are required to stay with their groups and follow designated trails led by their guides. This will provide for the safety and comfort of all participants. Experienced guides will assist the groups by determining and maintaining a safe and comfortable speed and will determine the routes to be followed.
All participants must first register on the website and provide information about their vehicle's modifications, if any, to ensure they will be capable of reasonably running the trails for which they sign up. You can register now with that information. Once registration opens, you will be able to select and pay for your trails for each day. We limit the number of vehicles on each trail, so first come/first served.
There are plenty of options for Lodging during the event in and around our staging areas. We have made arrangements with local establishments to offer discounts to our Jamboree Attendees. Check out our
Lodging page
for more information.
REGISTERING
You must have an account on our Website in order to select and pay for trails. This one-time activity can be done at any time prior to your trail selection process. Here are
some instructions
to help you with this one-time process.
Once Registration opens, you will be able to sign on to your account and then select and pay for the trails you wish to run.
SPECIAL NOTICES
During the four days of the event, Sand Mountain Recreation Area (SMRA) trails used by the Winter 4x4 Jamboree will be closed to non-participants during the hours of 8 a.m. to 4 p.m. The sand dunes and access roads will remain open to the public.
Flags are required for all Sand Mountain Trails! Trails flags are generally available at most stores selling off-road items and will be available at the event site. There are no exceptions to the Sand Mountain flag requirement. The flag must extend a minimum of 8 feet above the ground.
CB Radios are very strongly recommended as trail leaders will use them to convey important information along the trail. We may, in the future, switch to GMRS radios.
No alcohol will be allowed on the trails or at the Fairgrounds! You will be asked to leave the Fairgrounds and/or a trail and local authorities will respond if you are not in compliance.

ADDITIONAL ACTIVITIES
Beginning Friday and open to the public there will be our spectacular Vendor Show from 3 p.m. to 8 p.m. We are also planning a Radio Controlled Rock Crawl Competition and a Kids' RC Play Course sponsored by Sky RC. There will be prizes.
A variety of food trucks will be available for your dining pleasure both at the fairgrounds.
The big raffle/auction: Past participants know that we annually raffle off tens of thousands of dollars' worth of prizes including, but not limited to, complete sets of off-road tires, recovery gear, off-trail accessories and much, much more. The raffle/auction will be Saturday beginning at 6 p.m. preceded by the kids' raffle (12 and under) at 5:30 p.m. at the Fairgrounds. Kids' raffle tickets are free. Adult raffle tickets will be sold in and around the registration/packet-pick-up area all three days.
APPAREL

A word about Jamboree apparel: There will be apparel sales on site. You can also order what you want on our website to be picked up on site. Be cautious with your selections and sizes – no refunds, no exchanges. Should you order on line and fail to pick up your merchandise during the event your order will not be shipped to you and there are no refunds. You may have someone pick up your order if you are unable to pick it up in person. On site sales are limited to the stock on hand. The best way to get what you want is to order it online.
TRAIL STAGING
The staging area at the Washington County Fairgrounds in Hurricane features individual lanes and starting times assigned to each trail. Registration information will be available on the first day of registration.
Once you register, your selected lanes and starting times will be in your driver packet to be picked up by you the day before your selected trails depart the Fairgrounds.
With the exception of 9-rated trails, most of the trails each day will line up in the staging area of the fairgrounds parking lot prior to 7:45 AM and leave at 8 AM. Three trails will line up in the staging area of the fairgrounds parking lot prior to 9:45 AM and leave at 10:00 AM. Nine-rated trails will line up at their respective trail heads. Pay attention to the information in the driver packet you pick up at the fairgrounds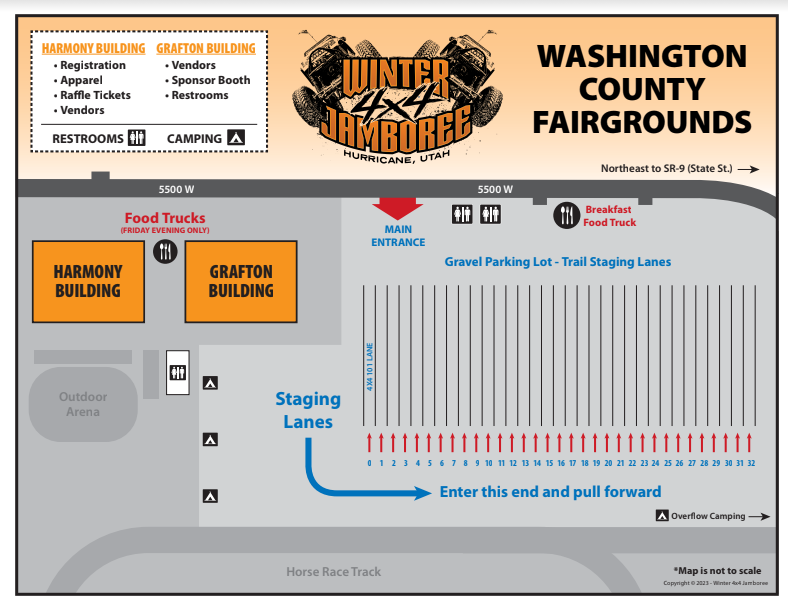 DISCLAIMER
And finally: Please accept the reality that this schedule is subject to tweaks here and there. The final schedule of all events will be included in your packet.
Let's go play!
Event Trails
click a trail to view details
Wednesday Jan 17, 2024
Thursday Jan 18, 2024
Friday Jan 19, 2024
Saturday Jan 20, 2024